The transnational project meeting was held on February 6th and 7th, 2023, at the premises of Colegio Los Peñascales in Las Rozas de Madrid, Spain. This was the final project meeting, and the partners gathered to finalize the pending Project outputs. The meeting was attended by all partnering organizations and provided a fruitful opportunity to exchange ideas.
During the meeting, the partners gave presentations on their preliminary results from the second round of testing, showcasing the Maximus app and the new game. Some remaining bugs were discussed, and the partners worked together to find solutions within a set timeframe. The Colegio Los Peñascales presented a draft of the Gamification Guidelines.
Multiplier Event celebration
A series of multiplier events were arranged with the purpose of sharing the intellectual outputs of the project with a diverse audience. These events were specifically designed to reach out to the broader educational community, parents, and education experts. Each partner was assigned the responsibility of organizing a multiplier event within their respective country.
The Slovak partners went above and beyond by hosting two distinct events: the Knowledge, Resources, and Rights (KRR) event, focused on promoting the project to the general public and local communities, and the Besst School event, aimed at engaging local educators, municipalities, and parents.
In Spain, there were also organized two Multiplier Events, one in Madrid and one in Malaga. In the beginning of the meeting, the concept of the project was presented, what gamification is and what its benefits are. To test the app's functionality, a task was set to complete a satisfaction survey for the Maximus project. Upon successful completion, participants earned points that they could use to test the ability to purchase items from our store. This exercise proved to be very effective in demonstrating the seamless integration of the gamification system into the entire learning process.
The Greek Multiplier Event was held in the event hall of the 5th High School in Agrinio. The event lasted 4 hours and was attended by 28 guests, all education stakeholders, i.e. primarily teachers and high school principals. A detailed presentation of the Maximus project was given, starting with a general reference to the benefits of gamification, and then focusing on the program's goals, gamification, and then focusing on the program's goals and implementation stages. Participants viewed the visualized material and asked questions because, as noted, they did not have in-depth knowledge of gamification, so the presentation piqued their interest.
These events, held in person, attracted a total of 207 participants.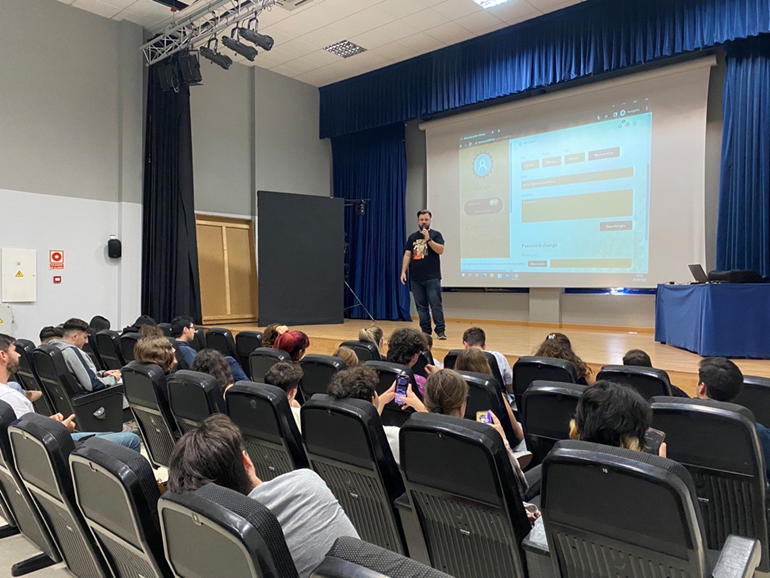 Project Partners